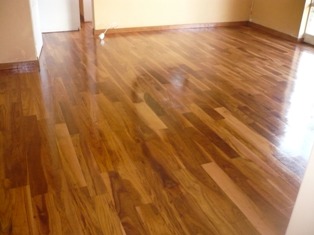 Wooden flooring - Pretoria/Johannesburg
Solid wooden flooring is available in a variety of timbers. They can not be bought over the counter but must be machined to suit your type of installation. The thickness of the solid timber flooring ranges from 10mm- 22mm depending on the client's requirements. Solid timber floors can be laid on wooden structures,cold glue can be used to glue down the wooden floors on screed or it can be installed as a floating door.
At av wooden floors we supply, install and repair of all wooden floors in Pretoria & Johannesburg. We do wood floors ranging from Zimbabwean Teak wooden floors. This type of timber flooring comes in 22mm tongue and groove long strip flooring boards, parquet timber floors and the mosaic blocks.To install the zimbabean teak solid flooring we use adhesives,wooden structures or can be laid as a floating wooden floor.After installation we do sanding and sealing.For sealing we use eco-friendly products which are good for the environment and are not harmful to human.
We also do saligna wooden floors( comes in the 22mm T&G flooring boards),Sa pine flooring(comes in the 22mm T&G floor boards).
Other wooden/timber floors by Av wooden floors include:Oregon pine, Rosewood, Walnut, Meranti, Oak, Beech, Maple, Kiaat(mukwa), Wild Chery, Notty pine.
Products not listed above can be sourced on request.
At av wooden floors we have been leading in the supplly and installation of wooden floors in Pretoria & Johannesburg for over 10 years and we have a very reputable history with our clientele.We train our own installers hence everyone share the same objectives and goals which are to remain the best service provide in as far as wooden flooring is concerned.
Wooden flooring maintenance and care
You can help your wooden flooring to stay for a long time without scratches and from being worn out. There are a few tips we have to help your wooden floors maintain their beauty and strength for longer.Always clean any dirt on your floors so to avoid scrathing. You can sweep or vaccum your floors but avoid using too much water but rather use a soft and damp cloth. Don't use anything that can scratch your flooring.
Always protect your wooden floors from UV rays and too much heat from direct sunlight. Wooden floors age quickly due to direct sunlight. You can also use some rugs to provide some cover to your floors. Always make sure to wipe up spills immediately. Invest in quality floor mats and also protective pads on all your furniture to protect your wooden floors. Place mats at entrances so to collect dirt and substances that might wear your floors.
Gallery
SOLID TIMBER WOODEN FLOORING
---
| | |
| --- | --- |
| 2017-01-23 11:50:36 | Abraham |
| | I have a 30m2 and one 21m2 room and interested to install either parquet, solid wood or engineered wood. Can you provide a quotation? I am based in Pretoria. Currently the floors have carpets on. Thanks, Abraham |
| 2017-07-20 22:03:36 | Wynand Calitz |
| | Please send me price list of solid wood and engineering wood flooring. Want wooden floors in new house |